This should redirect to the frontend url, but the redirection has been paused for now. Our 3 tips for a peaceful start to the school year
After the summer break, the beginning of the school year brings an end to the holidays and calls for a fresh start. It's time to adopt simple, long-lasting and beneficial rituals that will follow you throughout the year.
Whether it concerns your diet, exercising or the organisation of your days, take inspiration from these helpful tips to start the new year with peace of mind!
Batch cooking: healthy eating is back!
The start of the new school year is an ideal time to start cooking again and get back into a rhythm. Try the batch cooking method to establish good eating habits. What does that involve? Cooking all your weekly meals in advance. What for? To save time when preparing lunch boxes and dinners. Simple and effective!

To optimise your batch cooking session, schedule a day during the week or weekend to take time to cook. Think about a few meal ideas beforehand by looking at the best Pink Lady® seasonal recipes, do your shopping and get ready to cook!
At Pink Lady®, we appreciate this method for the variety and balance of the dishes it offers. In addition to being economical and "zero-waste", since you only buy what you need, batch cooking is a fun activity in which to involve children in the composition of the week's menus.
Sport and movement, the keys to an energetic start to the school year
The secret to getting the new school year off to a good start? Get moving! Get the energy flowing through your body and use sport to let off steam. Whether it's yoga, fitness or running, set aside some time in your week for regular physical exercise. To get motivated, listen to a feel good playlist and enjoy some alone time.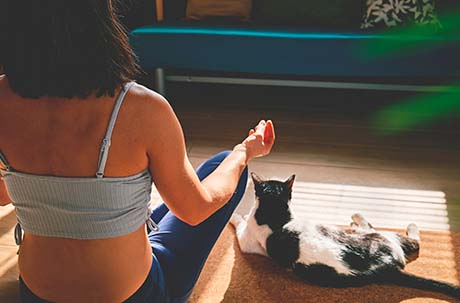 To make sure that you wake up energised and ready for an active day, set up morning rituals. Get up a few minutes earlier and schedule a stretching session, a 5-minute meditation session or go for a walk to clear your mind. Wake your body up gently while enjoying the uplifting quietness of the early morning.
Pink Lady® tip : Did you know that an apple is more effective than a cup of coffee for staying awake? Take a bite out of a Pink Lady® apple to boost your energy!
A well-functioning organisation
The ultimate tip for tackling the start of the new school year with peace of mind lies in organisation! Plan your week ahead and have a global vision of the days to come. Create your own bullet journal, a fully personalised notebook containing all your general organisation, from your diary to important appointment reminders. Keep "to do lists" and tick off each task once it has been completed. How satisfying it is to see your entire list crossed off! You may also hang a calendar in your kitchen so that you have daily access to the family schedule.
This time of year also means little ones have to go back to school. If you have children, take time with them to establish an organisation for the year to come. Between school time, outings, sports or creative activities and spare time… Plan the weeks to come together in order to see things more clearly!