This should redirect to the frontend url, but the redirection has been paused for now. Our 4 zero-waste tips for recycling your apple peel
Whether bitten straight into or gently peeled, apples are one of the most widely consumed fruit in Ireland. An extraordinary source of vitamins and fibre, they offer unsuspected resources… but we don't always eat the whole fruit!
Did you know that peel and even cores could be reused? Discover our 4 zero-waste tips!
Make apple crisps
Do you enjoy trying new recipes? Then why not try and make delicious crisps using apple peel? It's a great way to reduce waste and treat yourself at the same time.
You're probably wondering how to make those crisps? That's easy: season the peel of 2 or 3 Pink Lady® apples with sugar and cinnamon.
Then place it on a baking tray covered with a sheet of greaseproof paper. Finally, bake in the oven for 30 minutes at 150°C. That's it! The crisps are ready, just dig in!
Make potpourri
What could be more unpleasant than a bad smell coming from the kitchen or bathroom? To make your home smell lovely in a natural way, discover how to make potpourri from Pink Lady® apple peel, orange peel or dried lemon slices:
Dry the peel in the open air for 5 days, or in the oven for a few minutes (5 to 7 minutes on thermostat 2 or at 60°C).
Add fragrant spices (such as cinnamon sticks, cloves or ginger pieces).
Garnish with a few dried flowers.
Add a few drops of essential oils.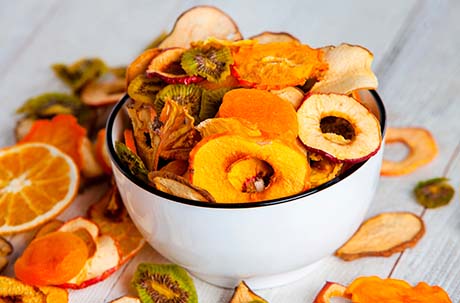 Prepare apple jelly
If you've just finished your apple pie, keep your peel and don't put your apron away! Here's a clever recipe that uses not only the peel but also the cores of 5 or 6 Pink Lady® apples.
Our apple jelly recipe
Put the cores and peel in a pan, cover with water and bring to the boil. Leave to simmer for an hour, then strain, by pressing the peel and cores well to extract as much juice as possible.
Measure the volume of liquid obtained in order to determine the quantity of sugar to be added: add about half the weight of the liquid obtained in sugar (500 g of sugar for 1 litre of water, etc.).
Bring to the boil again for half an hour, this time adding the agar-agar (4 g). Now all you need to do is to put it in a jar!
Make homemade herbal tea

The final zero-waste tip for your apple peel: make homemade herbal tea!
All you have to do is dry your peel in the open air on a cloth for a week, or in the oven for a few minutes (5 to 7 minutes on thermostat 2 or at 60°C).
Once the peel is dry, let your imagination and taste buds do the rest! Don't hesitate to vary the pleasures (apple-cinnamon, apple-verbena) and to flavour your preparation according to your taste: add lemon, orange, honey, ginger, maple syrup, star anise or other spices, and… enjoy!