This should redirect to the frontend url, but the redirection has been paused for now. Our suggestions for transforming your living spaces into true havens of peace
The garden, terrace and living room are special places where we may recharge our batteries, enjoy a spot of greenery or read peacefully, in order to take a break from our fast-paced daily lives!
But these spaces sometimes lack a little something in order to become peaceful nests. So if you too would like to transform one of these spots into a true haven of peace, here are a few tips for creating a place that is conducive to calm and relaxation.
Creating a Zen atmosphere
In order to create a place that promotes quietness and relaxation, it is essential to opt for zen-inspired interior design. Choose natural and raw materials whenever possible. The use of wood or rattan, materials with soft, warm tones, will reinforce this relaxing cosy atmosphere.
Avoid using colours that are too aggressive (red, orange, flashy shades) which are likely to disturb your well-being, but also that of the local fauna when it comes to outdoor spaces. Finally, adding a mineral touch will allow you to play with colour contrasts and bring relief to your surface.
Lighting is of utmost important

At nightfall, if you want to maintain the zen atmosphere of your haven, it is important to provide appropriate lighting. String lights would be perfect for a warm atmosphere. You can easily wrap them around the posts of your pergola or the railing of your balcony for outdoor spaces, and have them hanging from the top of your bookcase or along a stair rail for your indoor spaces.
Another solution would be to set up pendant lights! Made of wood, basketwork or wrought iron, they will blend in perfectly with other decorative elements (plants, stones, etc.).
Finally, enjoy the soft and warm light of candles through beautiful glass candleholders or an iron lantern for a more intimate atmosphere.
Plants, plants and more plants!
No matter how much space you have, the most important element for creating a peaceful haven is to include plants. Climbing, large-leaved, creeping or succulent plants will go perfectly well with your wooden decorations and add a "jungle" touch to your very own paradise.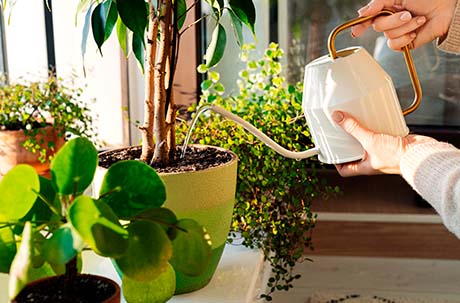 If you tend to prefer brighter colours, choose flowers that will bring out the green of neighbouring plants, and also highlight your light-coloured wooden decoration items. The idea is to create a beautiful partition of plants all around the space so that you may feel surrounded by nature, even if you live in an urban environment or your living room is quite small.
Pink Lady® tip : plant and grow bee-friendly species (clover, sage, dandelion, heather) outdoors! That way, you'll be contributing to the presence of bees and encouraging the pollination of nearby fruit trees and vegetable plants.